Make Community Spirit Days about Togetherness
Senior Care in Loudoun County VA
Community Spirit Days are celebrated during the entire month of April, though you may not have heard of it before. In a nutshell, Community Spirit Days are 30 days in which people volunteer or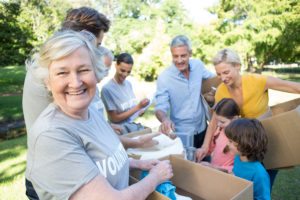 engage in activities—either alone, with a few other people, or as a large group—that pay tribute to local unsung heroes, or to help make their community a better place to work, play and live. It's also a way for people to feel more connected to their community. The activities can be organized and promoted as something formal, or be completely spontaneous and informal.
This is a great time for you and the senior you care for in your life—whether parent or grandparent, aunt or uncle—to do something together for the community. The beauty of this event being month-long is that you can take a day, or part of it, to do something special, or do something for more than a day. It's completely up to the two of you. Ask your elderly loved one what they might like to do, but here are some ideas to help jumpstart the thought process:
Ask about volunteering for a charitable organization
If your loved one was in the military, do something to pay tribute to our veterans
Write thank you cards and mail them to local police departments, fire departments, EMTs, etc.
If your loved one has an area of expertise, or special skill, they could offer to teach a class at a local senior center, nursing home/assisted living facility, school, etc. It could be anything—ranging from making some kind of craft item, to writing poetry or journaling.
Do random acts of kindness for others.
The bottom line is this: There are talents or resources people have that can be used to help out neighbors or others in the community. Paying it forward is a wonderful thing to do and can make everyone involved feel better.
If you or an aging loved one are considering hiring

senior care in Loudoun County, VA

, please contact the caring staff at LivinRite Home Care. Call Us Today at (703) 369-6677. Serving Northern Virginia, The Valley, and Surrounding Communities
Latest posts by Julie McCormick, Co-Owner
(see all)