Helping Your Parent Find New Friends 
Caregiver in Arlington County VA
Getting old is not easy. Poor health often begins to set in; mobility can be lost; hearing or vision can suffer, along with one's health; friends begin to pass. There is a lot of loss that is associated with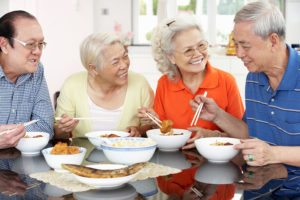 aging, and that can cause your loved one to feel sad, depressed and isolated. But there are ways to find a silver lining in one's senior years, and as a family caregiver—while you can't help them regain the health they may have lost or bring back lost friends— you can play a big role in helping them find and make new friends and regain some enjoyment out of life.
A great place to make friends is at a local senior center. Suggest they go check out what the center has to offer. They will undoubtedly have something of interest for your parent and that will start the ball rolling with others who have mutual interests. If taking that first step is difficult, you might offer to go the first time or two with them.
Encourage them to stay in touch with the friends they still have and get together with them when possible for lunch or a card game, etc.
They could volunteer in the community. There are plenty of places that want mature, responsible volunteers, including the senior center, schools, hospitals, and animal shelters, just to name a few. One place to find volunteer opportunities is VolunteerMatch.org.
Suggest they join a group or club that focuses on interests they have, such as cooking, playing cards, booking reading, poetry writing, etc. Meetup.com is a great place to find people with similar interests.
Many people find friends in the community of faith. If your parent belongs to a church, suggest they serve on a committee there of interest to them.
Taking on a part-time job is another way to meet new people. And picking up a little extra cash along the way won't hurt either.
Taking a class at a local community college or technical college is a way to expand their knowledge and meet new people with a similar interest.
Joining a gym or health club is a fantastic way of staying in shape and meeting others who are interested in fitness. Most places offer classes or activities for seniors so they're not mixed in with young people from a different generation.
Getting on Facebook is a great way to reconnect or stay connected with old friends, and make new friends at the same time—perhaps they're friends of friends.
If it's just steady companionship your loved one wants, there's always adopting a pet to help keep them company and give them something to focus their attention on.
The main thing to help them remember is just that because they're aging doesn't mean they're too old to make new friends, or can no longer exchange love or companionship with another living being, even if it's four-legged instead of two.
If you or an aging loved one are considering hiring professional

caregiver services in Arlington County, VA

, please contact the caring staff at LivinRite Home Care. Call Us Today at (703) 369-6677. Serving Northern Virginia, The Valley, and Surrounding Communities
Source: http://www.aarp.org/relationships/friends/info-04-2011/never-too-old-for-friends.html
Latest posts by Julie McCormick, Co-Owner
(see all)